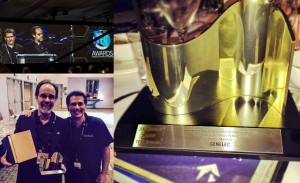 The new Genelec 8351, acoustically coaxial Smart Active Monitor (SAM™) System has received yet another prestigious international recognition, the 2016 NAMM TEC (Technical Excellence & Creativity) Award.
The 8351s are now on demo at Big Bear Sound in Dublin.
Since its launch in October 2014, this is already the 4th recognition from the professional audio industry and users for the 8351 studio monitor. The winners of the 31st TEC Award were announced during the Annual NAMM ceremony held on January 23rd in Anaheim, California.
On behalf of the entire Genelec team, Will Eggleston, U.S. Marketing director and Paul Stewart, Eastern territory sales manager of Genelec Inc., received the 2016 TEC Award, which is a great addition to the already amazing collection of 15 TEC Awards Genelec has received in the category of 'Best Studio Monitors'.
In addition, Genelec has become part of the TEC Award Hall of Fame since 2014 thanks to its near field studio monitor, the 1031A, which in turn changed the audio monitoring scene in 90s and later.
Siamäk Naghian Genelec Manager Director said, "We would like to warmly thank all of you who have supported us in setting a new achievement in audio monitoring and creating yet another milestone product to help audio professionals to make their dream a reality."
---