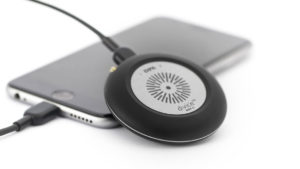 Introducing the DPA d:vice™ Digital Audio Interface
You're on the run after some big news. You need to be quick and practical, but most importantly, you need to capture a great story.
Your smartphone records the video but you know that crystal-clear audio is essential. With the d:vice™ Digital Audio Interface your audience will clearly hear your message, even if you work in challenging situations. Pre-programmable, easy to use and inconspicuous, the d:vice™ allows you to record amazing sound so you can tell the full story.
Offering unprecedented audio quality for live and mobile journalists in the field, the d:vice™ MMA-A works together with any iOS device, Mac or PC computer. Broadcasting or recording crystal-clear sound anywhere in the world is easier than ever.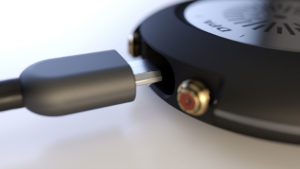 Journalists around the world are already using their smartphones to capture the news. It works fairly well because today's phones are capable of taking high-quality pictures and videos. The component that is missing is high-quality audio. For news broadcasts, it is equally important to have audio quality that matches or exceeds the video for the message to be understood. This is exactly the challenge that the d:vice™ solves. When used with a DPA microphone, the d:vice™ is able to capture or stream audio in quality previously only available in the studio. When it's not possible to have an experienced sound engineer on site, the d:vice™ can act as a 'mini sound engineer in your pocket'.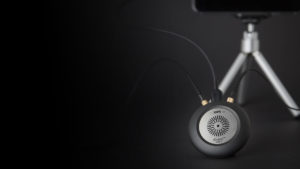 The d:vice™ MMA-A Digital Audio Interface is a high-quality, dual-channel microphone preamplifier and A/D converter that captures crystal-clear audio via your favorite recording / broadcasting apps. The d:vice™ can be used with all DPA microphones  with a MicroDot connector. This flexibility allows any content creator to use the equipment for unexpected situations that might arise during the day. Whether it be a two-channel interview situation or a session of stereo recording ambience sound, the d:vice™ makes it easier for you to do your job.
The d:vice™ MMA-A comes with one Micro USB-B to iOS (Lightning) and one Micro USB-B to PC / Mac (USB-A). Its MicroDot inputs allow it to be connected to all DPA miniature microphones, including the d:screet™ Miniature, d:fine™ Headset, d:vote™ Instrument and even the d:dicate™ Recording microphones with the optional MMP-G preamp.
At about two inches in diameter, the d:vice™ is ultra-compact, easily fitting in your pocket. It provides best-in-class audio quality and is controlled through a remote application on any iOS device. An exclusive DPA app is available for download from the Apple® App store. The app allows you to store gain settings and low-cut filters for ongoing and future personalized use in dedicated presets. Third-party applications can be used to accomplish specific tasks, including but not limited to, live broadcast and high-quality recordings.
THE D:VICE™ APP IS KEY
Download and install the d:vice™ App from the Apple App Store. It will work with most 3rd-party apps and therefore can be used in various situations including live broadcasts, as well as audio and video recordings.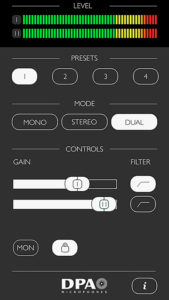 The d:vice™ can be used right out of the box but to take full advantage of it, the d:vice™ App is needed. Below you can learn about the functionality of the app.
Gain
Use the GAIN slider to adjust input levels. Slide to the right to increase amplification, to the left to decrease. Make sure to keep an eye on the level meters when you are adjusting gain. The meters should stay in the green and yellow areas.
Filter
The FILTER button (low cut / high pass) cuts out unwanted, low-end frequencies (rumble) that can decrease the intelligibility of your recorded audio. In most cases we suggest using the FILTER button and if, for example, you are recording outside near a road with traffic, this setting is essential.
Monitor
Use the MON button to send audio to your headphones so you can hear what you are recording. Please note that a headphone must be connected to the iOS device, otherwise the button will not activate and you'll be prompted to connect a headset. If the headset includes a microphone it must be connected prior to connecting the d:vice™ via the Lightning connector. This is due to the iOS 'last entry active' nature of operation. (We recommend using a wireless headset when using an iPhone 7.)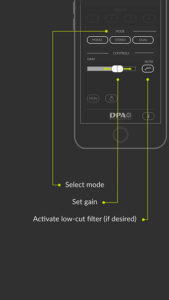 Lock
Use the LOCK button to block 3rd party apps from controlling gain. Gain settings can be controlled and saved on the d:vice™ for use in your favorite recording / broadcasting apps. The lock button also controls the setting of the low cut / high pass filter. Saved locked settings are automatically activated the next time you connect to the d:vice™.
Mono
If only one microphone is connected to either input I or II, MONO is chosen automatically. The mic input will be routed to both left and right output. Only one GAIN slider and FILTER button will be available in this mode.
Stereo
Use STEREO when you need to capture sound sources in stereo. Both microphones are controlled with one GAIN slider. Example: Ambiance sounds can be recorded in stereo using two mics that have the same sensitivity.
Important: When using STEREO you must use two mics that are optimized for stereo recording, for instance the specially-selected d:screet™ 4060 pair included in the d:vice™ Kit VIDMK-4060-S.
Dual
Use DUAL when the gain must be set individually for input I and II (for example, with two different microphone types or in situations where two people with different voice levels are to be recorded). The FILTER buttons are also individual in this situation.
Presets
Presets store your preferred settings for specific microphone(s) and make your set up easier. After choosing your settings, create the preset by pushing the numbered preset button of your choice for three seconds. The next time you plug in the same mics, push your preset button and you are ready to go – no adjustments necessary.
d:vice™ KITS FOR ANY SITUATION
We have bundled the d:vice™ into specialized kits, to make it easier for you to choose the solution that best supports your needs. Each kit contains a d:vice™ MMA-A unit and its cables as well as the right microphone(s) for your situation packaged together with useful clips and accessories as well.
The d:vice™, d:vice™ App and d:vice™ Kits will be available for shipping end-May / start-June.
Please contact Big Bear for further information on 01-410-0215
---