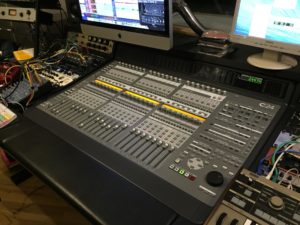 Speed up your Pro Tools and Pro Tools | HD recording, editing, and mixing tasks. With the sleek and stylish 24-channel C|24 control surface, you get direct hands-on control over almost every software function. Extend your studio with an array of high-quality analog inputs and a 5.1 analog monitor section to use with your Pro Tools audio interface. And because the hardware tightly integrates with your DAW, you get an incredibly powerful and richly featured surface designed exclusively for Pro Tools users.
Get easy access to recording, editing, routing, and mixing functions in Pro Tools through 24 banking channel strips. Control levels, pan, EQ, dynamics, plug-in settings, and more using the 24 touch-sensitive, motorized faders and 24 multi-function encoders. Quickly mute, solo, record-enable, select, insert, and automate tracks using dedicated switches on each strip. And view channel names, parameter settings, and more through two rows of easy-to-read LED displays.
With the fully featured transport section, you can work through project tasks quickly. Record and play back tracks with dedicated transport controls. Target a specific location and edit clips with precision using the scrub/shuttle wheel. Audition various parts of an audio edit selection. Toggle loop playback, loop recording, and QuickPunch. Undo what you just did. And much more.
The meter bridge provides more than just 24 graphs of visual feedback for your track levels. It also offers six output meters for monitoring stereo or up to 5.1 surround levels (Pro Tools | HD only). View timecode, bars|beats, and other time scale formats on the main counter display. And with a talkback mic integrated directly into the meter bridge, simply press a button to open communication between the control room and live room.
C|24 can be used beyond Pro Tools. You can also use it as an analog line submixer. Connect mics, instruments, and other analog studio gear to the eight built-in stereo inputs and a stereo output (all through DB-25 connections). You can then route the inputs to your Pro Tools audio interface for recording or directly to the C|24 monitoring section for standalone line mixer operation, with full talkback and monitor sections.
---