Big Bear Sound are the Exclusive Distributor for a select number of Professional Audio products in Ireland.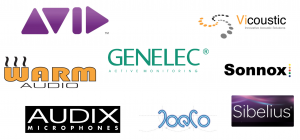 ---

Avid
Avid creates the digital audio and video technology that creative professionals use to make the most listened to, most watched and most loved media in the world – from the most prestigious and award-winning feature films, music recordings, and television shows, to live concert tours and news broadcasts. Some of Avid's most influential and pioneering solutions include Media Composer®, Pro Tools®, Interplay®, ISIS®, VENUE, Sibelius®, and System 5.
---

Audix Microphones
Audix commenced in 1984 with a mission that remains unchanged: To design, engineer, and manufacture high performing, innovative products that contribute to the advancement of the professional audio industry.
Year after year Audix microphones are recognized for their innovative design, performance, quality and durability. Audix pushes the limits of technology. Their state of the art facility in Wilsonville, is home to their research, design, fabrication, assembly, final test and logistics operations. They continue to evolve and strive to provide their customers with products that exceed industry expectations. They attribute our continued success to several factors: Their devoted customers who provide them with invaluable product feedback, a talented research and development team whose goal is to produce state of the art products and a highly trained staff who want to help you get the most from your Audix equipment. Ingenuity and passion are alive and well at Audix – and they have every intention to keep it this way.
---

Genelec
Genelec was founded in 1978 and are the industry leader in the manufacture of active professional audio monitors.
Genelec monitors offer reliability, neutral sound reproduction for any monitoring need from mono to multi-channel reproduction regardless of size, as well as the ability to adapt frequency response to the listening environment.
As well as supplying the professional studio monitor speaker segment Genelec have expanded to provide monitoring solutions to selected consumer markets and can be found in an increasing number of home theaters and residential systems.
---

Grace Design
In 1990, Michael Grace began building single order custom audio products for a small, devout following of recording engineers and artists. Before long, the word had spread about these custom microphone preamplifier designs, which were said to outperform anything else that was commercially available. In 1994, Michael partnered with his brother Eben and Grace Design was founded and began production of the model 801 microphone preamplifier. Not only did the model 801 provide a new level of audio performance and functionality, it helped to establish the outboard microphone preamplifier as a new keystone in professional audio production.
Grace Design manufacturer a definitive collection of microphone preamplifiers, monitor controllers and other unique hardware providing audio professionals and enthusiasts with some of the finest tools imaginable.
---

JoeCo
JoeCo established in 2007 by Joe Bull (ex Sadie) manufacture the revolutionary BLACKBOX RECORDER, designed for capturing live multi-channel audio and the BLACKBOX PLAYER, the first dedicated multi-channel playback device specifically designed to replay backing tracks or multiple surround stems for live shows and themed entertainment.
The BLACKBOX family's growing customer base includes touring bands, outside broadcast facilities, theatres and worship venues, broadcasters, film and TV sound recordists and post-production facilities.
---

Sibelius
Sibelius is the world's best-selling music notation software, Avid Sibelius 7 is sophisticated enough to meet the demands of top composers, arrangers, and publishers, yet simple enough for beginners and students.
Top composers, arrangers, copyists, publishers, instrumentalists, teachers, and students trust Sibelius as a powerful, easy to use music notation software.
---

Sonnox
Sonnox Ltd. has evolved out of Sony Oxford, which in turn traces its history back to a group of five dedicated audio professionals that first worked together in the early 1980s. These engineers spent many years together designing analogue and digital consoles for Solid State Logic, and subsequently left to start a new Company in 1988 that was called Oxford Digital. Over the following few years the team slowly expanded, until in 1993 it became Sony Oxford.
As technology became cheaper with increasing power, a group formed in Sony Oxford that became a development partner with DigiDesign and began work to create the Oxford EQ for Pro Tools.
By 2006 this plug-ins software initiative was operating as an almost self-contained business unit within Sony. To stimulate the business and allow it to thrive, the business unit was spun out of Sony in April 2007 and became a new and independent Company called Sonnox Ltd.
Sonnox now manufacture a full range of Professional Audio Plugins for a wide range of platforms.
Their philosophy has always been to couple the highest quality audio with intuitive operational simplicity, and bring that to the pro-audio market at an affordable price.
---

Vicoustic
Vicoustic offers acoustic products & solutions for Music & Broadcast, Hi-Fi & Home Cinema and Building & Construction.
Based in Portugal, Vicoustic has established itself as one of the most dynamic companies in the acoustic solutions industry. The research-based manufacturer offers a range of innovative products and services, representing the outcome of years of development, testing and optimization. Vicoustic's engineers work in strategic partnership with other industry sectors, including science institutes and universities, as well as gaining regular feedback from some of Europe's leading acoustic engineers.
Vicoustic's mission is simple: Improve the way you listen to Sound in an affordable and accessible way.
---

Warm Audio
Warm Audio's goal is to put high-end recording gear in the hands of as many musician's as possible. Passionate musicians deserve to be recorded through professional gear regardless of budget constraints.  Warm Audio is shaking up the industry by producing professional designs at affordable prices. All of our products have completely discrete signal paths and custom USA transformers.