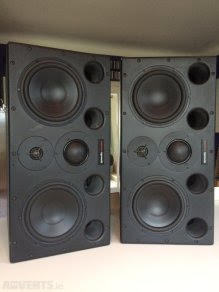 DYNAUDIO M2 3-Way Passive Studio Reference Monitor Speakers.
Can supply amplifier as part of another ad or we can negotiate for a combination deal.
Excellent condition, some minors scratches on the underside of one speaker.
Perfect for studio applications, or for serious hi-fi enthusiast.
Three-way midfields, with a wide range of applications.
Stereo imaging is pinpoint accurate due to the computer optimised designs of the crossover and drivers. The M2 is capable of SPLs of up to 125dB at 1.25m as a stand alone system.
The original design concept for the M2 was a compact near-to-midfield monitor, which would remove the need for larger built-in systems with their inherent problems of accuracy, installation and cost.
More information available from DYNAUDIO.
ACCESSORIES – Includes speaker cable. Coming as shown in the photos.
PHYSICAL CONDITION – Very Good: There are some scratches, blemishes (mostly on the undersides), very moderate wear, overall they look great.
WORKING CONDITION – Excellent. Fully tested and evaluated using frequency sweep and music playback.
TOTAL PRE-SHIP WEIGHT – 71 kg's.
TOTAL PRE-SHIP DIMS- 27″ x 27″ x 20″
---