Modern DAW software has given us virtually unlimited possibilities for manipulating audio, but sacrifices the organic feel of faders and knobs at our fingertips. Reclaim that experience without losing the power of software with the expandable MCU Pro control surface. With simple USB plug and play setup with nearly any DAW, you will be mixing like a pro with real motorized touch0sensitive faders, buttons and assignable V-Pots in no time.
The MCU Pro is equipped with a generous two-line, 55 character backlit LCD to display parameters like track name, channel metering, I/O assignments, plug-ins, EQ, dynamics or anything our various software partners want you to see. While MCU Pro is compatible with all major music production software, it is also designed to specifically work with your application — just access your software
'
s parameters in the master section and you can get right down to action. We even supply pre-labeled Lexan overlays for popular applications.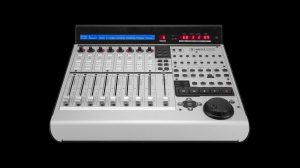 Equipped with nine 100mm motorized touch-sensitive faders from Alps® — one for each channel, plus a master fader and support for an unlimited number of banks. Each fader channel also has a V-Pot, surrounded by an LED collar to indicate the current value, and dedicated buttons for record ready, solo, mute, channel select, and signal present LED.
Please call us on 01-410-0212 if you are interested in this product.
---