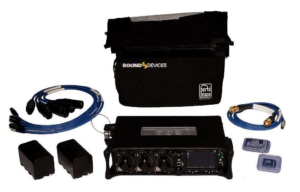 The Sound Devices 633 + KIT (included all cables, batteries, charger, kit bag).
– 1x 633 Mixer
– 1x CS-633 Bag by Portabrace
– 3x XL-2F
– 2x XL-2
– 1x XL-LB2
– 2x XL-B2 Batteries
– Free 1x Sony Battery Charger
– 1x SD Approved 16Gb CF card and (1) SD Approved 16 Gb SD card.
The 633 Kit is a complete production mixer recorder kit, containing all the necessary equipment to connect and operate the 633 in a professional audio production environment.
The 633 is a compact, six-input production mixer with integrated 10-track recorder featuring PowerSafe technology. It offers six analog inputs and records to SD and CompactFlash memory cards. The 633 is designed for audio professionals requiring go-anywhere portability, without compromising recording or mixing capability
The 633 integrates a high-accuracy time code generator, plus extensive file metadata support entered from either the front panel or from an attached USB keyboard.
Powered by a unique Quad Power supply with PowerSafe technology, the unit is operational from any of four power sources. Sources can include external DC (12-18 V), two removable 7.2 V L-type lithium ion cells, and six internal AA batteries. The 633 automatically switches from one power supply to the next when power is exhausted or removed. With its combination of power sources, the 633 can operate for a full production day on batteries alone.
When all power sources are removed or depleted, the unit's PowerSafe circuitry is activated. PowerSafe keeps the 633 operating for up to 10 seconds and ensures that all file operations are fully closed and the unit gracefully shuts down.
---