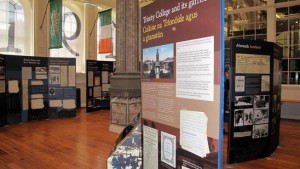 Citizens in Conflict: Dublin 1916
Big Bear Sound have completed an audio installation for the multi-media commemorative exhibition being held in the Dublin City Library & Archive, Pearse Street.
Commissioned by Norman Madden & Leo Duffy from Yellowstone Design, who created the sound design, the exhibition features a motion-triggered audio playback system with special effects designed to immerse the visitor into the experience.
The equipment supplied and installed by Darran Cummins at Big Bear Sound includes Genelec 8010 discrete powered speakers, small flash cards providing audio playback and each separate set-up is triggered by infra red sensors.
This new exhibition by Dublin City Library and Archive includes eye-witness accounts of the Rising and newly acquired sources such as the Dublin Fire Brigade Ambulance Logbook for Tara Street Station.
With a particular focus on the Pearse Street area of the city (formerly Great Brunswick Street), where Patrick and Willie Pearse grew up and where Boland's Mill garrison was commanded by Eamon de Valera, the exhibition also remembers the many civilians, including 40 children, killed during the Rising.
The exhibition runs from from 14 January to 25 June 2016.
---