We are delighted to install and complete an acoustic treatment for the new rehearsal space at the Artane School of Music.  It is a multi-purpose rehearsal space measuring 9m x 9m x 5m high. The initial acoustic specification was done by John Munnis using Vicoustic ViCloud Hexagons for ceiling and Cinema Round Tech Premiums on the walls. These products are not only very effective absorbers but also look great in the room. The fabric colour reproduced on the walls is of course the famous Artane Band colours of blue and scarlet.
The decisions regarding how to treat walls and ceilings in the rehearsal space were down to John.  "The Vicoustic products detailed were recommended with a view to ending up with an RT60 (Reverb Time) of approximately 1.3 seconds which would be ideal for this type of space. The installation of the absorption within the room was in conjunction with the internal walls being offset so there were no parallel surfaces thus controlling the generation of standing waves, a particularly undesirable acoustic phenomenon in a music room."
Key to the success of the installation is the vision of Board of Management of the Artane School of Music and Ronan O'Reilly; Acting Director.  "Our new rehearsal space looks and sounds really great. We can accommodate up to 45 musicians in the studio with a recording engineer's room adjacent to the main studio. We hope that this room will now be used for rehearsal and recording purposes for various ensembles. Thanks to Big Bear, John Munnis and the the staff of the Artane School of Music for pulling this impressive project together."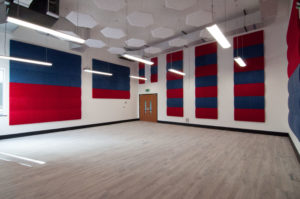 The Artane School of Music was founded in 1872 and in addition to being home to the famous Artane Bands they do so much more.  Along with various Room Hire options, the school of music runs a vast amount of courses for both adults and children, including Private Tuition, Leaving and Junior Certificate music modules as well as having a Youth and Community choir.  It is recognised as a centre of excellence in music tuition and performance, and is also unique in offering major performance opportunities to students through the Artane Bands. They firmly believe in giving every child the opportunity to learn an instrument.
---