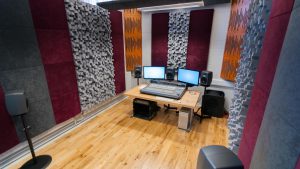 Maynooth University has added a completely new mix room to enhance their impressive music department facilities.  The new 5.1 surround system commissioned and installed by Big Bear Sound, features five Genelec 8040B active speakers and a Genelec 7070 sub woofer.  An Avid C24 Control Surface and monitor controller and a ProTools HDX system provide the core power.
The acoustics are designed around a selection of Vicoustic audio products. The mix of diffusers and absorbers used gives a neutral frequency response ideal for 5.1 mixing.  Darren Phelan of Big Bear is enthused about the installation, "Vicoustic are providing us with acoustic solutions that are really great value and look impressive too.  They are ticking a lot of boxes right now for our clients and we're delighted with how Maynooth University has worked out."
The new mix room compliments the existing recording studio, which now contains Ireland's first Radar Studio 24 track hard disk system. The new Radar is also capable of running any Windows based Digital Audio Workstation.
Head of the Music Department at Maynooth University Prof Chris Morris added, "The recent expansion of our audio facilities represents an important investment in state of the art equipment for our students. We're delighted with the installation and the acoustic treatment."
---