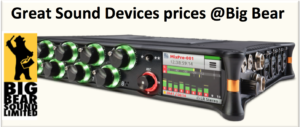 Big Bear Take On Sound Devices
Big Bear Sound in Dublin are delighted to have been appointed exclusive reseller of the Sound Devices range of location recorders, mixers and interfaces in Ireland. Big Bear Sound is Ireland's leading professional audio suppliers and integrators providing local sales expertise, back-up and support.
Sound Devices have been honoured by their audio industry peers with awards for many of its products, such as the 633 compact production mixer, the 664 field production mixer, the 788T-SSD portable audio recording system, the 970 half-rack audio recorder, and the SL-6, a powering and wireless accessory for the 688. All five have earned the prestigious Cinema Audio Society (CAS) Technical Achievement Award.
"Sound Devices is recognized and respected worldwide for its innovative technology, unparalleled design and build quality for its portable audio and video product lines. We see a great benefit for the location sound community in Ireland to have a local Sound Devices reseller with great prices, delivering superb back up and support," said Michael Browne, Managing Director of Big Bear Sound.
Vojtech Pokorny sales manager for EMEA, "Sound Devices is thrilled to have Big Bear Sound as our new Irish exclusive reseller. Big Bear Sound is Ireland's premier outlet for professional audio gear and is well-regarded for their knowledgeable staff and great customer service. We look forward to a long and successful partnership."
Renown as the industry standard for production sound professionals, Sound Devices released a new line of products in 2017 called the MixPre Series, which initially offered two models: the MixPre-3 and the MixPre-6. Aimed at sound enthusiasts, podcasters, videographers, and musicians, both compact, highly portable audio recorders boasted mixing capabilities, touch-screens, built-in Bluetooth Smart®, and USB audio interfaces. Later last year, the company expanded the line with the MixPre-10T, a 12-channel audio recorder/mixer/USB audio interface with built-in timecode generator/reader.
"Technology is moving fast and to keep up to speed with all that's new & different it is crucial for audio professionals to have local companies that can provide the necessary knowledge and support to keep you on track," adds Michael Browne.
Please contact us for all the latest information and offers on Sound Devices equipment.
Tel: 01 4100212 email: info@bigbearsound.com
18th January, 2018.
---