To celebrate both the 10-year anniversary of Genelec's hugely successful 8000-series monitor speakers, and Big Bear Sound's 10 years as their Irish distributor, we are delighted to offer trade-in deals for a limited time, from any active or passive studio monitor speakers to a new pair of Genelec 8010A, 8020C, 8030B, 8040B or 8050B models.


To avail of this offer, just return your existing monitor speakers to Big Bear Sound – they can be any make/model, active or passive, provided that they are in good working order.  (Full terms & conditions below).  You can then purchase a new pair of speakers at the prices shown below:
(Prices shown are per pair, including VAT, with qualifying trade-in):
| | |
| --- | --- |
| MODEL | TRADE-IN PRICE |
| 8010A (pair): | € 458.00 |
| 8020C (pair): | € 658.00 |
| 8030C (pair): | € 938.00 |
| 8040B (pair): | € 1,518.00 |
| 8050B (pair): | € 2,458.00 |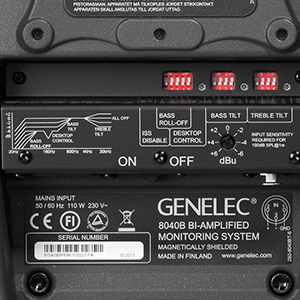 Featuring a unique cabinet design made from recycled aluminium, along with custom drivers and amplifiers, each Genelec 8000-series speaker is individually assembled, tested and calibrated by hand at the Genelec factory in Iisalmi, Finland.  This attention to detail gives class-leading performance, e.g. minimal distortion, exceptional imaging, frequency response – as well as incredible bass response and SPL capability from a small cabinet design.  They also provide excellent long-term reliability, with a 4-year warranty on all 8000-series speakers.
In keeping with Genelec's philosophy of environmentally sustainable design, all current models also feature Intelligent Signal Sensing (ISS™) circuitry, which switches the monitor to standby when no audio input is detected, reducing power consumption to a mere 0.5W.
Big Bear Sound are Genelec's exclusive distributor for Ireland since 2004, and have supplied a huge number of Irish recording studios, broadcast and post-production facilities, and private/project studios with Genelec monitoring systems.  In addition to on-site acoustical calibration of Genelec monitor systems, we also provide extensive in-house demo facilities, product specialists and factory-trained Genelec servicing and repairs at our Dublin city-centre premises.
For further details or to place your order, please call or email us.
Terms & Conditions:
Offer ends 30 September 2014.
Trade-in offer only available for the models listed above.  No other Genelec models apply.
Offer applies to standard "charcoal grey" finish models only.
The customer is responsible for all carriage costs of the trade-in speakers to Big Bear Sound.
Trade-in value will not be provided in cash or credit form.
The customer must be the owner of the speakers to be traded in.
Once the trade-in sale is complete, ownership of the traded-in speakers will pass to Big Bear Sound, and the customer will no longer be the owner of the speakers.
If the customer decides to return their Genelec speakers following a trade-in deal, re-imbursement will be limited to the price paid for the Genelec speakers, and will not include either the traded-in speakers or their value in cash or credit.
---
Tags: Genelec 8000-series