New affordable active monitors from Genelec, for home and project studios, song-writing and DJ's.
Genelec have launched the new M Series of bi-amplified, active monitors – high-performance, environmentally sustainable active monitors designed with the project studio in mind. The purpose of M Series is to create a new monitor offering using new technologies related to manufacturing, electronics and Genelec Embedded Sustainability.
Designed and built to be truthful to the source and to ensure enduring listening performance
The latest design by Genelec – Finnish manufacturer of active monitors since 1978
Industrial design by Harri Koskinen
The Natural Composite Enclosure (NCE), environmentally friendly Finnish wood composite enclosure combines controlled directivity with minimal diffraction
Intelligent Signal Sensing power management for energy saving with less than 0.5 watts of power consumption in Standby mode
Low distortion, high output from power-efficient Class D bi-amplification by Genelec
Low product lifecycle carbon footprint
Individually tested and calibrated according to Genelec's stringent standards
Room response controls for easy adjustment to your environment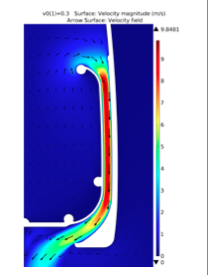 Innovative Natural Composite Enclosure (NCE):
Light weight with excellent acoustic performance and low structural resonances.
Elegant design with Laminar Integral Port (LIP).
Excellent directivity control provides smooth frequency response both on- and off-axis.
Sustainable design – the composite material and enclosure is manufactured in Finland with 1/2 wood fibers and 1/2 other materials.
All materials are recyclable.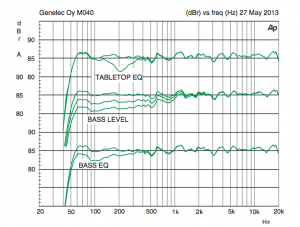 New Genelec Class D amplification:
Reduced power consumption through better efficiency – up to 90%.
Intelligent power management for stand-by, automatically switching the monitor to standby when no audio signal has been detected for some time.
Monitor switches back on when an audio signal is received.
Discrete Genelec design – low distortion.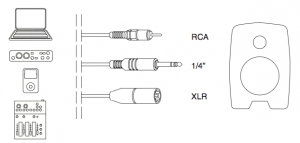 Embedded User Friendliness:
Automatic voltage selection – easy travel companion.
Versatile input options XLR / TRS / RCA.
Easily accessible Room Response controls for easy adjustment to your environment.
New Genelec Designed High Performance Drivers:
Low distortion, high SPL performance.
The M-Series is available in two models, the M030 and M040:
M030 Active two-way studio monitor:
M040 Active two-way studio monitor:

103 dB (with less than 3 % harmonic distortion)
58 Hz – 20 kHz (- 3 dB)
5" woofer + 3⁄4" tweeter
Treble 30W
Bass 50W
H x W x D: 273 x 190 x 190 mm
4.6 kg
Combo XLR + 1⁄4" / RCA

107 dB (with less than 3 % harmonic distortion)
48 Hz – 20 kHz (- 3 dB)
6.5" woofer + 1" tweeter
Treble 50W
Bass 80W
H x W x D: 337 x 235 x 229 mm
7.4 kg
Combo XLR + 1⁄4" / RCA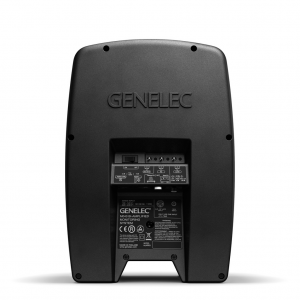 "The transient response and degree of high-frequency detail were positively outstanding. Imaging was also excellent. Low-frequency extension was admirable for such a small monitor…  the M030 is one of the best-sounding small-format near-fields I've heard to date." – MIX
"I was very impressed by the Genelec M030, and it is certainly one of the best small active monitors that I have heard. If you are looking for a pair of easily portable, high-quality monitors at this price point, I wouldn't hesitate to recommend that you audition the M030 at the earliest opportunity." – Sound On Sound
The M Series monitors will be in stock and on demo at Big Bear Sound in the coming weeks.  Big Bear Sound are the Irish distributor for Genelec monitors, with extensive stocks and demo facilities, product specialists and warranty service and support all in-house.
---
Tags: Genelec, M-Series, monitoring, speakers