Dear friends in the audio industry,
It is with great sadness and sorrow that we announce that our friend and pro audio journalist and publisher Zenon Schoepe has died.
Our deepest condolences to his wife Susan, daughter Olympia and son Florian. They have issued the following statement.
Big Bear Sound.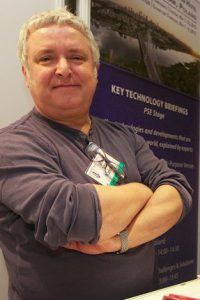 To our dear friends in the professional audio community,
Zenon's sudden and unexpected death leaves a gaping hole in our lives: he was a wonderful, loving, wise and generous husband and father. We know in the audio community that many people share our view that he was an exceptional man and we draw great comfort from that. He died doing something he loved – riding his bike in the beautiful countryside, and for that we find comfort.
Although our lives have been changed forever by his death, he leaves such a fine legacy for us all to uphold, not least in his valued contribution to the Pro Audio industry – Resolution magazine.
Within his typical vision and foresight, Zenon created a short and long-term strategy in order to secure that Resolution continued on in the event that he was no longer in the leadership role. And while we know that no one can ever replace Zenon and his specific voice with the pages of the magazine, he had curated a group of writers and contributors whose collective efforts represent the product that the industry has embraced and valued for the past 15 years.
If Zen were here to speak, it is very likely that he would tell you all how much you have enriched his life, inspired him to achieve at a high level, and that Resolution is just a reflection of the innovation and greatness that comes from you all.
Looking towards the future, we are fully committed to produce Resolution at the level of excellence you are accustomed. Please stay tuned for further announcements about staff appointments who will carry on Zen's legacy.
Warm and sincere regards,
Susan, Olympia and Florian Schoepe
---