Big Bear Sound and Digital Garage invite you to…
A post-IBC event on Tuesday 24th October 2017 in historic Studio One of Windmill Lane Recording Studio. Explore new workflows and efficiencies. See products from our key manufacturers that will help you to get your projects completed on time, on budget and on air.
One to One Demos are available between 12pm and 4pm – please indicate your preferred time when making your registration on Eventbrite. We will call/email you ahead of the event to confirm your time slot.
Open group demos will commence from 4pm to 6pm with drinks and food from 5pm onwards.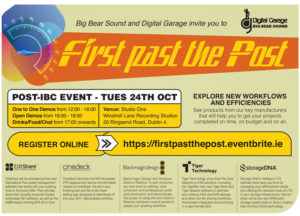 What's on show?
Editshare will be previewing their new Standalone Flow asset management software that works with your existing Avid or 3rd party SAN. They will also show their recently acquired Quales automated QC software, as well as the IABM award winning EFS All-in-One.
Cinedeck will show the RX2 file-based VTR replacement device and the latest version of cineXtools, the all-in-one finishing tool and file to file insert editing app designed to seamlessly fit into your AS11 deliverables workflow.
Blackmagic Design will introduce DaVinci Resolve 14 with revolutionary new tools for editing, color correction and professional audio post production and demonstrate the power of using the new DaVinci Resolve hardware control panels to speed your grading workflow.
Tiger Technology show their File Area Network or FAN solutions. Including the TigerBox with new Tiger Store and Tiger Spaces software to optimise your existing NAS and DAS storage and allow true file sharing workflows, Avid project integration and archiving in a user-friendly GUI.
Storage DNA's intelligent LTO software tools save you time by managing your offline/online media and utilising the reduced costs of LTO in your storage infrastructure. Also on show will be the new DNAfusion storage system built on Sony's Optical Disk Archive (ODA) technology.
REGISTER ONLINE – https://firstpastthepost.eventbrite.ie
---