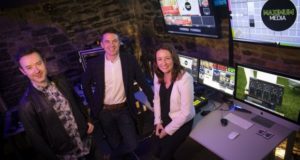 We are delighted to have designed, supplied and installed the new on-air, multi camera studio for Maximum Media's new online TV Show.  The installation and design took full advantage of our new association with Digital Garage and their knowledge and support.
Taking full advantage of new technology and platforms, SportsJOE Live will stream weekly on Facebook Live, Periscope and Maximum's own sites.
The show hosted by Colm "Wooly" Parkinson and Australia-born comedian Damian Clark, with the long list of regular contributors lined up to sit under the studio lights including retired rugby star Ronan O'Gara, former Republic of Ireland midfielder Andy Reid, football writer Dion Fanning, ex-Kerry footballer Paul Galvin, Cork camogie captain Aisling Thompson and impressionist Conor Moore.
The first show was streamed last Wednesday and Maximum Media owner Niall McGarry announced that the first episode had been seen live by over 100,000 people and said it "redefined Irish media".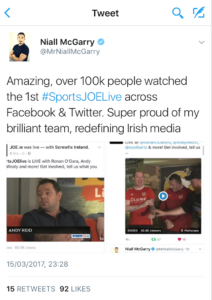 Main photograph thanks to The Irish Times.
---